ADMI and French school, Rubika partner together with AFD to open an Animation and Game Design school.
ADMI & RUBIKA signed a Memorandum of Understanding for the creation of a Createch animation and game school in Nairobi, to be financed by Agence Française de Développement (AFD).
ADMI, RUBIKA and AFD share a vision to strengthen the animation and game industry in Africa by setting up a world-class facility in Nairobi, Kenya. We are collaborating to set up a Bachelor's program in Game Design & Development and a short term certificate in 2D Animation to start in January 2020.
Based on the core philosophy shared by ADMI and RUBIKA, the project will take an ecosystem approach, supporting promising animators along every step of the production supply chain: training, apprenticeship, incubation, investment and distribution.
Based on France's recognized expertise in the animation sector, the collaboration will aim at supporting the production of local content from Kenya and East Africa towards the global animation and gaming industry.
From left to right: Mrs Rima Le Coguic – AFD Africa Department Director, Dr Laila Macharia – ADMI CEO and Mr Stephane Andre -RUBIKA CEO after the signing of the MOU
Speaking at the signing of the memorandum of understanding in Nairobi, Dr Laila Macharia, ADMI Managing Director, stated that "This exciting collaboration with RUBIKA allows us both to achieve our mutual vision of turning passion into profession. She added: "By 2020, the global animation market is projected to reach US$270 billion in value. This provides a unique opportunity for Africa's youth to produce and sell world-class content. To meet the challenge, we must train local animators to global standards, equip them with business skills and link them to the global content market."
From left to right: Mr Kamau Gachigi – Gearbox Kenya, Mr Stephane Andre -RUBIKA CEO and Dr Laila Macharia – ADMI CEO during the panel discussion
RUBIKA's CEO Mr Stephane Andre said, "After India and Canada this is a great opportunity to expand our international network. Animation film and gaming sectors present tremendous potentialities in Africa. We are very proud to be part of this adventure which will allow both of our schools to learn from each other. Our common purpose will be to help every of our student to go from his/her passion to a future and enjoyable job".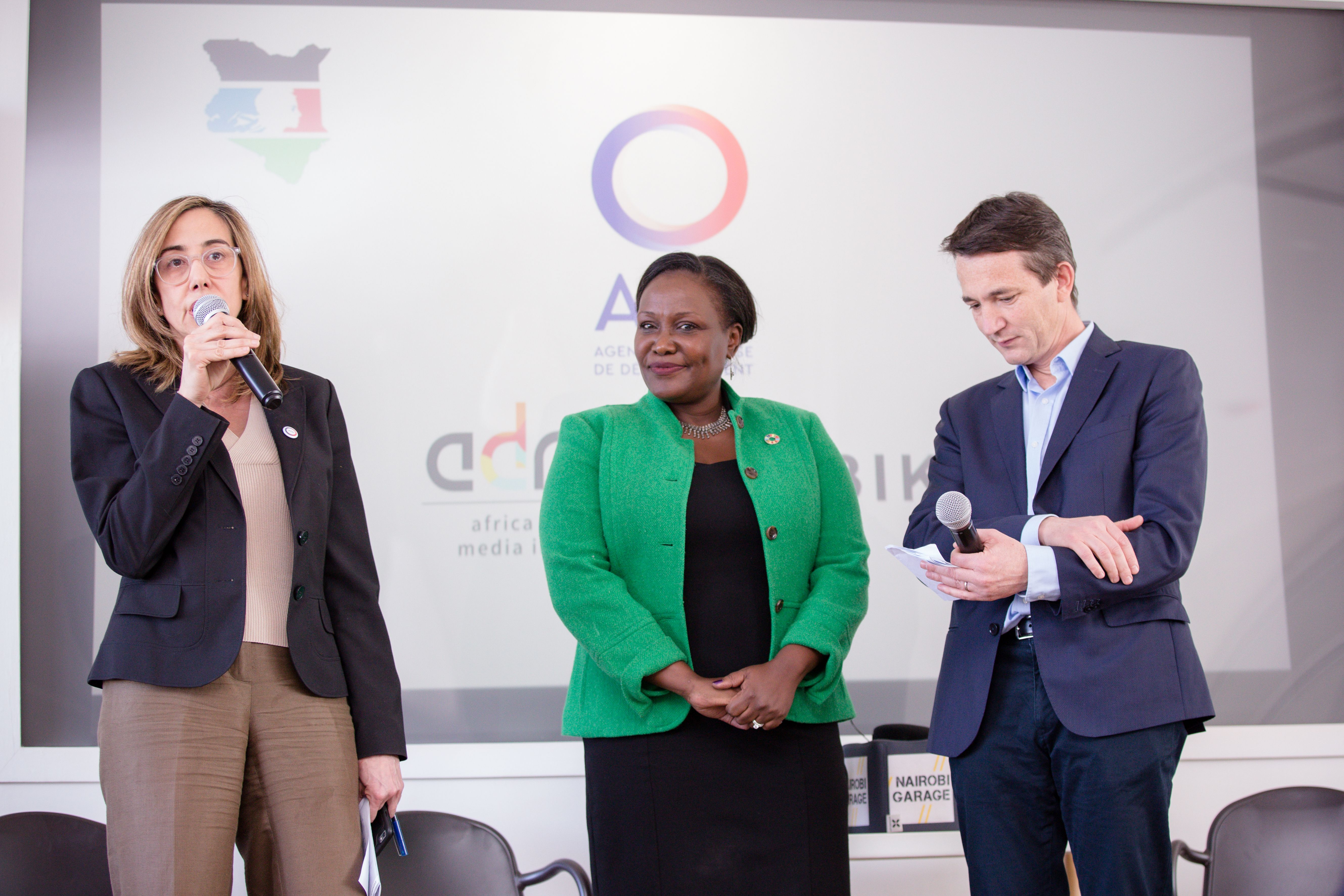 From left to right: Mrs Rima Le Coguic – AFD Africa Department Director, Dr Laila Macharia – ADMI CEO and Mr Stephane Andre -RUBIKA CEO
AFD's Africa Department Director Mrs Rima Le Coguic stated that this was in line with the AFD strategy to develop its activities in the cultural and creative industry, "We support innovation and start-ups, providing mechanisms for financing the creative and cultural entrepreneurship to ensure job creation in this sector."
We believe that this partnership offers African youth an unparalleled opportunity to participate in the global economy. As we pursue growth and expansion, we are committed to equipping Africa's digital generation to exploit this historic opening.
Click on the link below to watch the MOU signing and panel discussion on empowering youth through digital technology on our Facebook page:
MOU Signing with RUBIKA to open an Animation and Game Design School
Interested in joining any of these courses? leave us your contacts and we shall get back to you.