Nairobi based set designer Claire-Marie Njoki was one of the stars of the Too Early For Birds Brazen Edition (TEFBrazen) play. The TEFBrazen edition was an all female-led show. From the cast, to the crew, to the stories being told, the TEFBrazen play shared stories of five women who shaped Kenya. Zarina Patel, Mekatilili wa Menza, Wangu wa Makeri, Field Marshal Muthoni Kirima and the Nandi lady who led to Luanda Magere's death.
Claire-Marie Njoki served as the art director in the TEFBrazen show, mainly focusing on the visual aspect of the play. They communicate through color and design. They come up with the color scheme for the show and choose the costumes that are suited for each character. An art director is equally in charge of ensuring that makeup is enhanced according to the character. Lastly, they ensure the set reflects the director's and art director's vision.
Here is Claire-Marie's story as the TEFBrazen Art Director.
Becoming TEFBrazen's Art Director
Towards the end of March, the director, Wanjiku Mwavuganga, approached Claire about an interesting project. Wanjiku wanted Claire-Marie to join the TEFBrazen production team as a set designer. They discussed the vision and commenced pre-production. In the later stages of the pre-production, her role changed from a set designer to an art director. "I had to shift from my comfort zone, set design and embrace being an art director. In fact, I tried convincing Wanjiku that I was unfit for that role since I hadn't held that role before in the theatre. She would hear none of it. I had to believe I would do justice to the show as an art director."
Pulling an All-Nighter
Nairobi barely has 10 functional theatres and this proved a daunting challenge. There were other shows scheduled for the week. The stage wasn't constructed until the night before the first day of the show. The cast and crew had less than 24 hours to familiarise themselves with the stage. They ended up rehearsing all night long. While watching the show one couldn't tell they had rehearsed on a complete set for less than 24 hours. No beat was missed.
"Each woman I interacted with during the production of TEFBrazen show had something so amazing in them. They encouraged me to be unapologetic as a woman."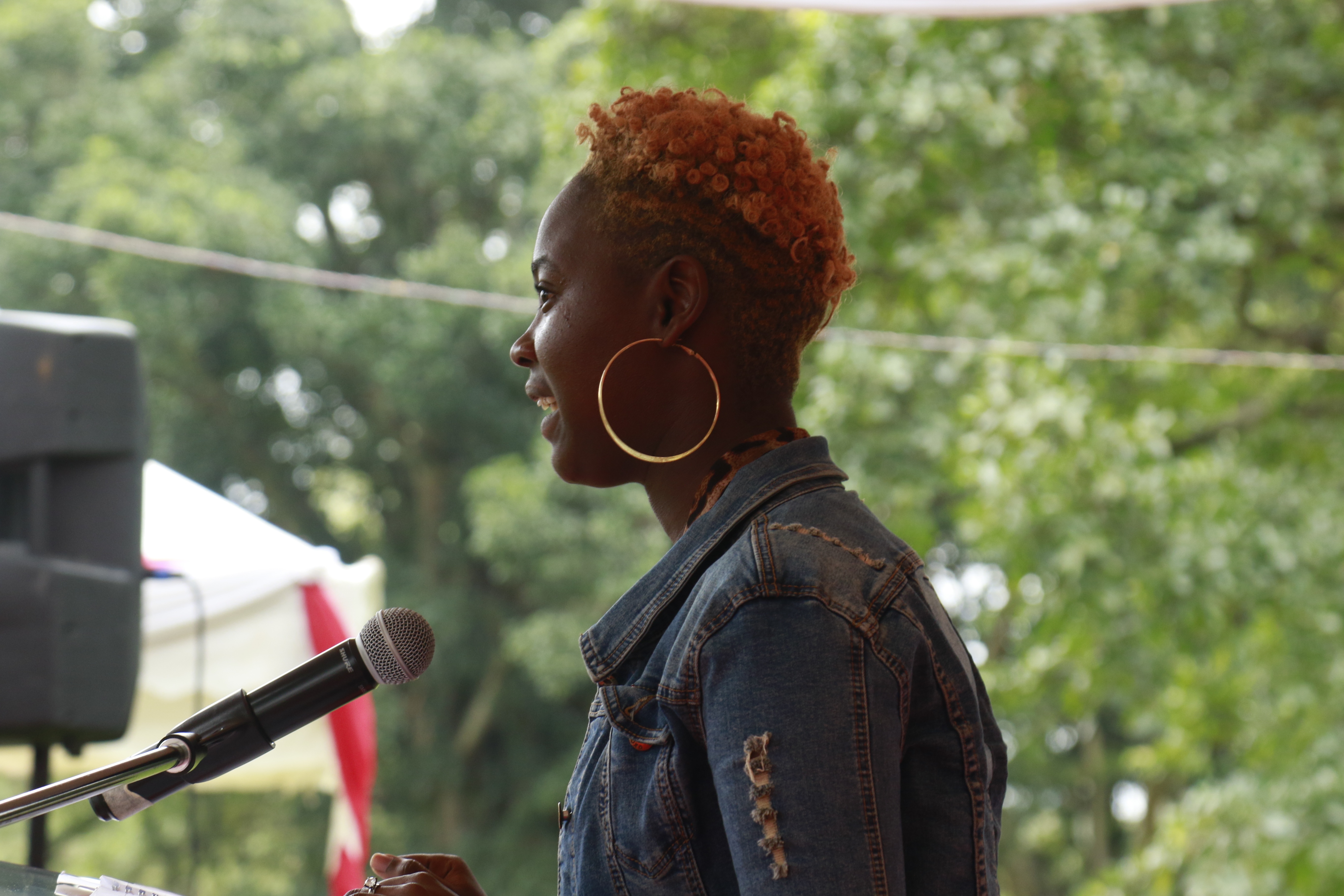 Claire-Marie at the 2018 ADMI Graduation
The Difference Between Film and Theatre
Claire has worked in art departments for various productions. Key among them is the Oscar-nominated film, Watu Wote, 18 Hours, Broken and plays like Stranger in My Bed. On the difference between film and theatre, "The major difference is that theatre offers flexibility. You're allowed to go crazy with your ideas. In this case, the director didn't mind having a broken wall. There's constant communication between you and other crew members. However, theatre is more demanding as an art director because you have to constantly stay in tune with what's expected. There's no second take."*
Being A Female Art Director
"Being a female art director is quite mind-blowing. People will not believe in your capability especially if you're a newbie. But on the other hand, it's also quite fulfilling when people discover you were capable of achieving all that as a woman. More women are joining the art industry. They are commanding respect. However, I feel we still need to give women a chance. They're so many gifted women out there who can help the industry grow."
Brazen Women
The Brazen women that Claire looks up to are her grandmother, Ruth Wanjiru Mukabi and mother, Linda Wacu. They have constantly reminded her of the extraordinary gifts she possesses, to be fierce, hard working and confident. "I look up to the women who decide to face their struggles and push on with life. The women who fight for others. Those who love genuinely. Those who constantly give, forgetting to put themselves first. Every woman who has decided to pursue the arts whether it's music, theatre or film; they're Brazen."
Relaxation Time
Claire is currently watching, I Tonya. It's her favorite film this year. She is also watching many theatre set design shows. She is currently reading, Yesteryear by Laura Eden. A collection of poetry that effortlessly transcribes the chaos of the never-ending battle between head and heart.
Her parting shot? 
"The whole experience was life changing physically, emotionally and mentally. The role challenged, strengthened and taught me to embrace that I am enough. It reminded me of my purpose and the reason that I got into the arts: to chronicle remarkable stories."
Marie-Claire Njoki is an alumnae from Africa Digital Media Institute. She holds a Diploma in Film and Television Production.