So where do you lie? Here are the 3 steps that you can use to check which of the two career paths you should take:
Know the

skills

required.

Identify which specific

job role

is best suited for you.

Select a good institution to acquire the necessary

training

.
Description: It is a creative process that utilizes different equipment that contributes to a song arrangement. This is accomplished by gaining the necessary skills and training in the operation of modern sound equipment and music technology.
Description: A Sound Engineer manipulates the acoustics used in music production to help producers or musicians achieve the sound they are looking for. Thus, a Sound Engineer helps a recording studio to achieve high-quality recording of music, speech and sound effects.
| | |
| --- | --- |
| Music Producers |  Sound Engineer |
| Ability to focus | Ability to distinguish between sound quality |
| High attention to detail | A good sense of pitch, timing and rhythm |
| Good interpersonal skills | Ability to work under pressure |
| Objective | Good interpersonal skills |
| Never ending drive | Flexible and open to change |
| Creative | Persistence and determination |
2. Identify which role is best suited for you
Job roles for Music Producers:
Music Producers have many roles including but not limited to meeting with recording artists and deciding on the arrangement and overall theme of a song, deciding on which instruments should be used, recording the voice and instruments separately and looking for financial backing for projects.
A songwriter composes lyrics or musical compositions for songs either for personal, commercial or to be used by another artist.
A Recording Engineer is responsible for the audio aspects of a project. Their function is mainly to create, edit and mix sound by using their own choice of manipulation techniques. Therefore, a Recording Engineer should have electronic equipment training as well as good sonic sensibility.
A Sound Designer is part of the music production but their main responsibility is to obtain all sound effects whether recorded or live. Thus they must have the necessary technical skills required to capture different sounds in different environments.
 Instrument Tech/Specialist
An instrument technician is the caretaker of all the instruments used in music production. The technician tests, installs, repairs, inspects and performs general maintenance regulations for the different equipment used in music production.
A Sound Mixer usually works in film and television crews to ensure that all recording done has clear sound. This is usually done by adjusting the volume levels depending on the external factors or by adding effects to the recording to make it more authentic.
A Recording studio manager oversees the day-to-day running of the studio for instance bookings, allocating budgets to projects and marketing the studio.
A DJ plays existing recorded music at events or gatherings. Their roles differ depending on the purpose or setting of the event. A cutting edge DJ creates a new sound that is unique and acts as a brand to set him/her apart from the crowd.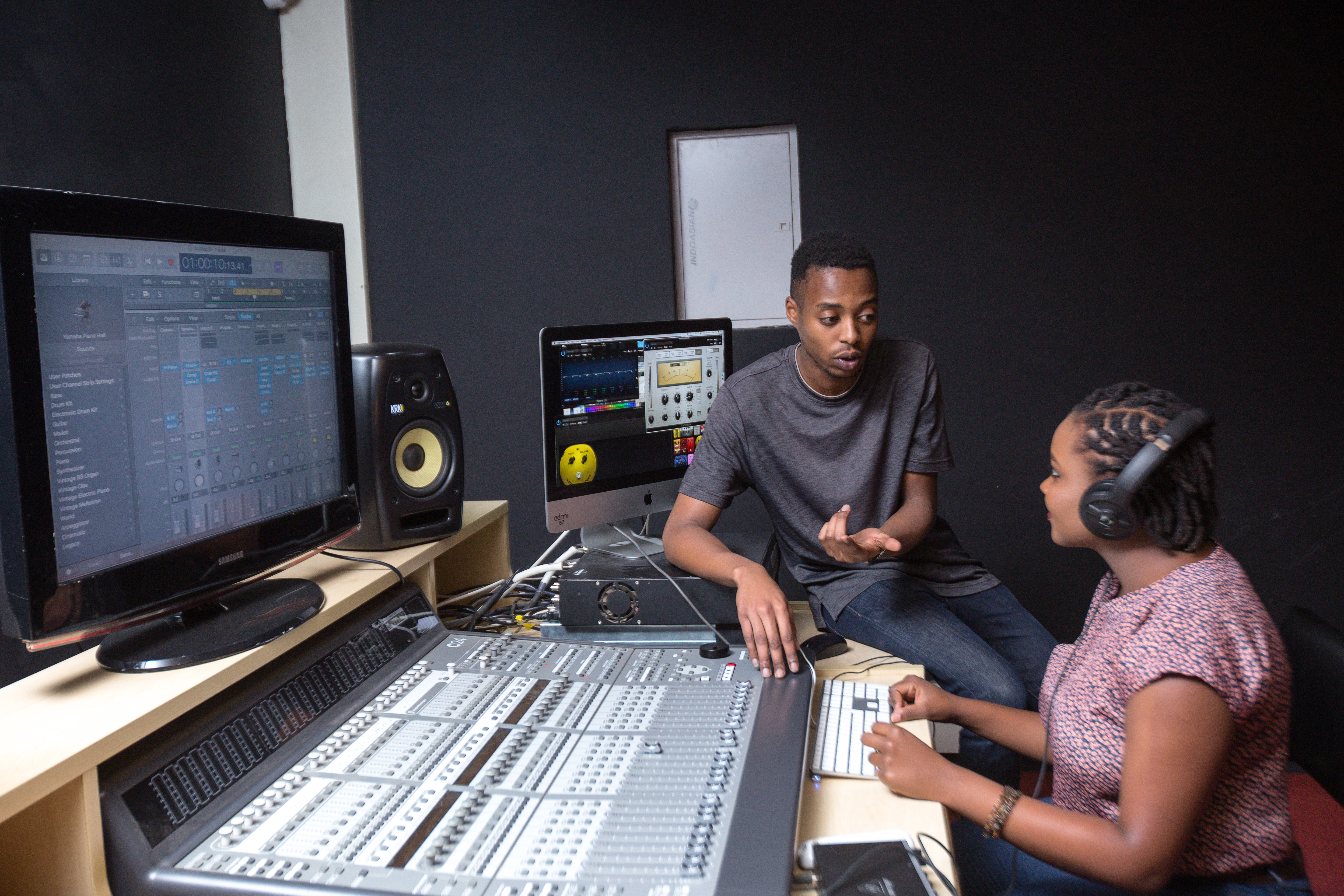 Job roles for Sound Engineers:
A Studio sound engineer sets up and tests audio equipment before any live recording session.
A Mix Engineer is usually responsible for the quality of the song that is recorded thus he/she adjusts the volume, adds effects or manipulates the audio to meet the requirements of the producer or musician.
The role of a Studio Assistant in a recording studio is mostly administrative. Thus, a Studio Assistant maintains all the records, logs, and statements.
A Production Assistant is mostly in a Film or Television crew and deals with the set requirements for instance stage lights, props, scripts etc.
An OB Engineer works in a Film or Television set to ensure that the hardware or equipment used in the production to ensure that the broadcast is of high quality.
An Electronic Musician operates various electrical equipment in a set.
 Music and Dialogue Editor
A Music and Dialogue editor assembles raw recordings, cuts, and edits them before adding sound effects and suitable soundtracks.
Whether your dream is to be a
Music Producer
or a
Sound Engineer
, one thing is clear, you need passion to give you the drive to accomplish the training needed to acquire the necessary skills required for each.
Growth Mindset = Passion + Hard Work      
If your interest lies within live sound and shows production, the entertainment business or audio production and engineering, then you are suitable to start a career in Music Production.
If you enjoy working with electronics and are interested in music and sound, then you would make a good Sound Engineer. In this job, you would need to have a good sense of hearing.