"We wanted to come to this side to show you who we are," says Juliani. "Welcome, and thank you for taking the time," he says, grinning.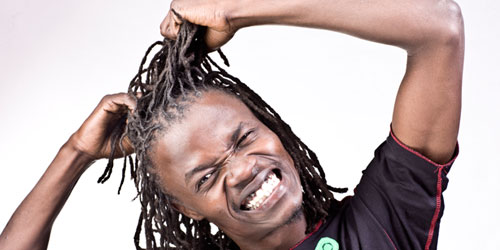 It is twelve o'clock on the 20th of August 2016 . In the heat, our group of ten boards a reggae induced, orange-coloured bus, thrilled at the journey about to unfold. ADMI's close friendship and association with Juliani, Kenyan Superstar, rapper and founder of Dandora Hip-Hop City, has brought us here. Our friends at StartUp Grind welcome us warmly as we take our seats. "Thanks for coming everyone!" says Betty smiling widely, "I hope you're ready for an entirely new experience". At that moment I had no idea what she meant. I had been to Dandora before, it was nothing new. How wrong I was.
After some time the bus comes to a stop in Kariobangi South at Pinebreeze Youth Center. What hits me first are the colours and art. Surrounding the entire area are visual masterpieces in graffiti. Blue, red, yellow, orange and green are spread out on the walls. We are led to a multi-coloured bus, converted into a children's library. Inside we find lush blue seats, and at the back are shelves, neatly stacked to the brim with books.
We sit and are welcomed by the manager and are told of the origin of Pinebreeze. "There used to be no library around here, originally we were only a car wash but after only a few months we decided to give back to the community and make this." As the man speaks, children in the back play xylophones and guitars loudly, too excited to care for the meeting in front of them. Laughing the man says, "The children then wanted music so we got them instruments." He takes us outside to where they've made a stage from used cinder blocks. Old cds hang from a tree above the platform. "We have multiple shows that we put up here for the children. Last month we hosted US Ambassador Robert Godec." The visit comes to an end as we take photos by the artwork and with the children. As the view of Pinebreeze shrinks behind us, the children can be seen racing back into the library excited to continue playing, reading, learning.
Our second stop takes us deep into Dandora Phase 2 to a small court known as Mustard Seed. As we enter the brightly coloured yellow and green gates we are shocked by the neat walkway. One of the residents explains their successful initiative to keep their court clean and colourful. "All the houses in the court contribute about 100 bob to get some of the youth to clean up the area." This communal initiative, he explains, happens with many courts at different times. "Even me, I have a gig in another court." As he speaks children perform cartwheels on the newly established recreational field they call "Mustard Garden." Unable to resist the urge, some in our group join in, reminiscing. As we leave and wave goodbye to the children, something catches the corner of my eye. A black chalkboard with writings on it, at the boundaries, written in large print are the words; Dandora is not a slum, it's an estate! Smiling, I step back onto the bus.
Our final stop takes us to the place we had all come to see. Hidden behind the biggest dump in Nairobi, past a lively football field in the middle of an open space stands a four-story building. The letters, DHC, are tattooed on the side. As we enter the building that houses Dandora HipHop City that ADMI was privileged enough to help establish, we are immediately greeted by vibrant art masterpieces. The humble artist explains that many are inspired by Dandora itself. Shortly we eat and head up to the interview room. As StartUp Grind sets up cameras and banners for their interview, He walks into the room. He greets everyone individually with a gleam in his eye. As the informal, down-to-earth interview commences the artist he explains "I started it in Form 2… Music gave me an identity." Juliani describes Dandora Hip Hop City as a "Community" where members can go and tell stories, record in the studio etc. As the interview draws to a close, DHC decides to demonstrate its talent in a free-style rap competition. Cheered on by the crowd, various artists step up to present their power over the rhythmic flow. Those who receive the greatest reception are two girl members of DHC. Juliani himself closes the competition by demonstrating why he is one of the top 5 artists in Kenya, comically rapping about Betty's shoes and DHC's community.
The end of the day was punctuated by having some members of DHC signing up for ADMI programs, looking for a practical way to continue pursuing their passions. We are incredibly proud of our relationship with Juliani – as an advisor at ADMI – and DHC. We continue to ensure an education of an international standard for students of all backgrounds and origins.
Looking into getting into music? ADMI is one of the best music production schools in the region. Click on the image to find out more.